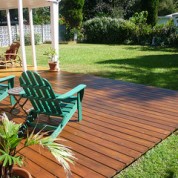 Deck Staining
We have been deck staining for customers near Stillwater, Woodbury and Lake Elmo in Minnesota since 2003. Most decks can only hold their stain one to three years. Vertical surfaces such as railings can keep their stain appeal up to eight years.
Horizontal decks lose their stain appeal from direct sunlight, foot traffic and climate conditions. Deck surfaces need to be power washed to remove mildew and dirt.
Cleaning solutions and pressure washing will remove the mildew and dirt along with existing paint. New decks will be sanded first and stain will be applied. This process needs time for the deck to dry. Then one or two coats of semi-transparent or a solid stain will be applied.
A solid stain applies like a regular house paint and will start to have a peeling look when it begins to lose effectiveness. Semi-transparent will leave a more rugged look and will still have a nice tone to it and merely fade when its course has run out.
Fence Staining
Usually a picket fence or privacy fence will need staining or painting to protect it from the elements. Picket fences are mostly built for curb appeal and privacy fences are typically six feet in height and are a great barrier. These fence types can be stained or painted with your choice of color or stain.
Fence staining is a great and economical way to create the curb appeal you were looking for. Done Right Painting and Decorating will prepare the surface by power-washing the fence.
Power-washing an existing fence will relieve any mold, mildew and old paint or stain. Depending on your choice of paint or stain, will determine the life expectancy of your fence. Finally we can paint or stain your fence with the color of your choice. And wullah, great curb appeal will be achieved.