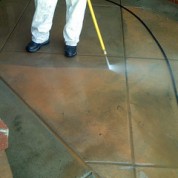 Pressure Washing
Done Right Painting can perform pressure washing at your home or business. Overtime surfaces becomes dirty from blowing debris, nearby house or road construction and the changing of season with trees shedding their debris. When performed properly, pressure washing will brighten and clean the surface from these situations.
Pressure washing is a low cost restoration option for your property. Overtime dirt and mold can build up on the exterior of your home. Our pressure washing service can prevent the intrusion of allergens into your home which will help protect you and your family's health. Pressure washing is also a great form of preventative maintenance for your largest investment, your home.
Pressure washing is very beneficial for cleaning building exteriors and restoring color to wood decks and fences, bringing back the curb appeal you desire. Some dirty areas need cleaning solutions first, then pressure washing.
Done Right Painting uses a high pressure washing machine for: